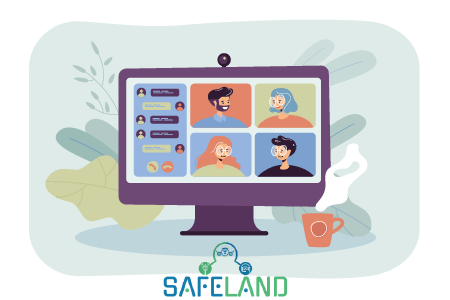 The SAFELAND Consortium was delighted to welcome the members of the SAFELAND Advisory Board (AB) in the SAFELAND Preliminary Evaluation Workshop, which took place virtually, on Wednesday, January 27th 2021, from 09.00 to 16.30 CET. The main aim of this event was for the SAFELAND Team to present to the AB members the initial concepts of operations developed for the situation of pilot incapacitation and to collect feedback, views, and comments from different professional perspectives, through this interaction. 
The SAFELAND project aims at supporting flight and landing of aircraft operated by a single pilot, in case of incapacitation of the pilot, with focus on the ground side and on the role, ATM could have in managing the transition from a single pilot operated flight to a status with reduced or absent contribution of the onboard pilot to landing. In this frame, SAFELAND wants to investigate the interaction of the air traffic controller with onboard automation and/or a ground-based pilot operating through a remote cockpit position to manage the flight. 
To this concept, the SAFELAND consortium drafted variants of concepts of operations for the situation of a pilot incapacitation in Single Pilot Operations (SPO), where thirty-two experts from different fields of expertise, i.e., airline pilots, ATC operators, Human Factor experts and legal expert, contributed and a total of three alternative concepts have been developed, namely:
Automation focused Concept

Ground Station focused Concept

Air Traffic Control (

ATC) focused Concept


 
The SAFELAND AB, comprised of expert representatives from aircraft manufacturers, system industry, Air Traffic Service Providers, association of European research, pilot representative organizations, regulatory bodies, institutional bodies and occupational health-care organizations, have been invited to review the three initial variants of the SAFELAND concept, so as to provide their valuable feedback, comments as well as views with respect to each variant. The participants have been also encouraged to discuss several aspects such as:
Operational acceptability
Workload and situational awareness
Safety
Security
Legal and regulatory
Cost/benefit relation
The information collected will be taken into account for the design of the final SAFELAND concept, which will be implemented and validated within the project.
 The final SAFELAND concept will be defined in May 2021 and will be available in the progress section as a Public deliverable around August 2021.  Stay up to date by joining the SAFELAND newsletter and SAFELAND LinkedIn & Twitter!