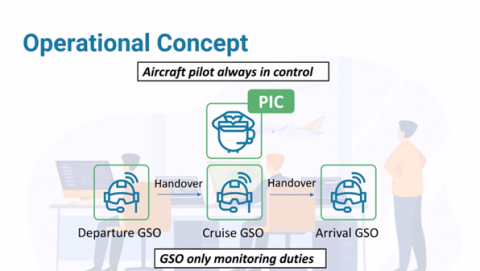 On 2 September 2021, the 11th EASN International Conference hosted the session "Remotely piloted aircraft systems: SESAR Joint Undertaking", dedicated to INVIRCAT, URClearED, CORUS-XUAM, PJ13 and SAFELAND projects. The session consisted of presentations followed by a round table chaired by SESAR Joint Undertaking program manager, Ms. Nil Agacdiken.
Our colleagues Stefano Bonelli from Deep Blue & Joonas Lieb from DLR represented the SAFELAND project. In SAFELAND the project partners are working to create a valuable solution for supporting flight and landing of single pilot operated aircrafts, due to partial or total pilot incapacitation. After an introduction about SAFELAND's mission by project coordinator Stefano Bonelli, the floor was given to Joonas Lieb, in charge for the definition of the SAFELAND concept. Among others, the following were rounded up in an insightful presentation, entitled "SAFELAND: Managing in-flight incapacitation in single pilot operations":
The process towards the final concept definition,
The three alternative operational concepts,
The role of the ground station operators,
and the takeover phases until safe emergency landing
During the round table discussion with Ms. Nil Agacdiken that followed the presentations, our colleagues summarized their view on some aspects that need to be elucidated before the successful implementation of Remotely Piloted Aircraft Systems (RPAS), including:
Technical limitations (e.g., line of sight)
Cost to develop the RPAS infrastructure
Remote pilot limitations (e.g., workload)
The SAFELAND final concept is released as a public deliverable and can be found here.
The 11th EASN International Conference
The 11th EASN International Conference on "Innovation in Aviation & Space to the Satisfaction of the European Citizens" is organized by the EASN Association, European Aeronautics Science Network. The 11th EASN took place virtually between 1 – 3 September 2021.
View presentation video here.